Below are the final results from the August 2020 High Score Competition. Awards are given to the top twenty ranked players every month. You may click on a user's name to enter their personal trophy room. Don't see your name on this list? Keep trying! Three new competitions begin on the first of every month.
You may also view the results of other competitions from August 2020.
---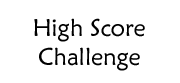 August 2020 Results

1st placetompilot
89530 pts.

2nd placewordclicker
84912 pts.

3rd placeTalegi
70382 pts.